Its the 25th Annual Georgetown Wooden Boat Show!
October 18th   11 AM – 6 PM   &   October 19th   12 - 4 PM         Free Admission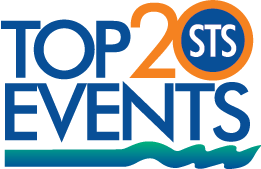 The Georgetown Wooden Boat Show – always held on the third weekend in October – offers fun for the whole family. The show will feature one of our nation's best wooden boat exhibits with more than 140 classic wooden boats displayed on land and water, a wooden boatbuilding competition, children's model boatbuilding, knot tying, maritime art and crafts, food and music. A special attraction will be the Wooden Boat Challenge when teams of two race to build a rowing skiff within a 4 hour time limit and then test their boats for seaworthiness in a rowing relay on the Sampit River.
To celebrate the Show's 25th Anniversary, some wooden boat show activities will extend into Sunday, October 19 from Noon until 4 PM. Check back here for updates on Sunday's events.
The Wooden Boat Show will take place on the waterfront and along Front Street in Historic Downtown Georgetown. The Show is produced by the Harbor Historical Association, a 501(c)(3) tax-exempt organization, and is the major fundraiser for the South Carolina Maritime Museum.
2014 Charles A. Bundy Award, SC Governor's Conference on Tourism & Travel
2014 and 2013 Southeast Tourism Society's Top 20 Events for October
BECOME A SPONSOR OF THE BOOK

Take this opportunity

Read Doug McQuilken's post on WoodenBoat Mag's online
We look forward to seeing you on Saturday & Sunday, October 18 & 19.